Final Fantasy Tactics Advance
Radio Edition vol. 1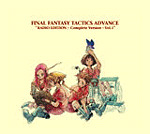 Cover image taken from DigiCube
Premium edition:
SSCX-10081
(released 2/26/03 by DigiCube)
Squaresoft catalog number:
SSCX-10082
(released 2/26/03 by DigiCube)

5 tracks
Total playing time:
Tracklist
Buy regular edition from CD Japan


Description from CD Japan: The audio drama premiered in January 2003, preceding the release of the Final Fantasy Tactics Advance game. The album compiles the show aired from January to late February 2003, plus some previously unbroadcast segments edited in. Premium edition in a special packaging (or with a special feature).


---

Premium edition: Comes in tri-fold cardboard case. The package is much thicker than the regular edition. Tracklist is the same as the regular edition. Will have more details later.

Regular edition: Comes in folder-type cardboard case.


---
| | | |
| --- | --- | --- |
| 1 | Chapter One: IVALICE | *** |
| 2 | Chapter Two: Engage! | *** |
| 3 | Chapter Three: Realized Dreams | *** |
| 4 | Chapter Four: Clan, quest, and the first job! | *** |
| 5 | EX-One: Marche's training diary | *** |
---
Back to the main Final Fantasy CD page

Last revised April 06, 2008